ESTABLISHING A PROFESSIONAL NETWORK
Burger & Company always strives to meet the absolute highest of professional standards.
We are proud members of the organizations listed below: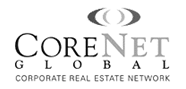 Nearly all of the 1,000 companies represented by CoreNet active members are Fortune-500 firms. Through our membership, we offer our clients a distinct competitive advantage when seeking to buy, sell, or lease property with
the ability to directly market worldwide.